Tablecloths

- Damask Ivy Leaf Design

Beautifully finished top quality, 100% cotton demask. Bordered Ivy Leaf design available in popular sizes finished with two sides hemmed and two sides woven selvedge.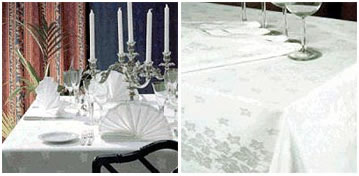 DESIGN - Ivy leaf pattern.
WEIGHT - Approx. 200-230gsm.
PASTELS COLOURS - Cream, Candy pink, Dusky pink, Cornflower, Mint, Peach and Lemon.
DEEP COLOURS - Emerald, Royal, Burgundy and Red.
DELIVERY - Within five working days from date of order.
SIZES AVAILABLE (in white/colours or pastels):
For price please e-mail or telephone sales.